It's time for another Friday Find post! This is a chance for me to tell you all about some item I'm using and give a quick review. These are products I think you could find useful as well so I want to pass along the news. If you want to know more about Friday Finds you can see this post here and it will tell you way more than what I'm going to go into right now.
Basically what you need to know is that I'm reviewing products that I've actually bought with my own money – this is not a sponsored post nor did I get this product for free. Everything I'm writing is 100% my own opinion and it's my true opinion at that. If I'm letting you know about a product that doesn't live up to the hype I want to be honest about that. I'm all about keeping it real, no matter the circumstances.
(Note: This post contains affiliate links. Possibly several of them. Check out the disclosure policy to find out more.)
This week I want to shout and holler all about the Wet Brush! I've only got one daughter but she's got enough sass and attitude when it comes to her hair for thirty little girls. Or maybe I just think she does because I only have one and if I had more I'd realize she's just like most. I really have no clue. But this girl has never really enjoyed getting her hair brushed. There has always been some bribing going on when it comes to her hair, usually involving my phone or some special show to get her to sit still for a few moments so I can work the tangles out.
Up until recently we were using a regular hair brush – one that I had probably owned for the last 10 years. I can understand why she wasn't a huge fan because many of the bristles were missing their little plastic ends so it was just metal. I tried being gently but with her twisting and flailing all over the place even my attempt at being gentle was useless. I told a friend this "woe-is-us" tale and asked her what she does about her daughter's hair.
She instantly said, "Wet Brush!"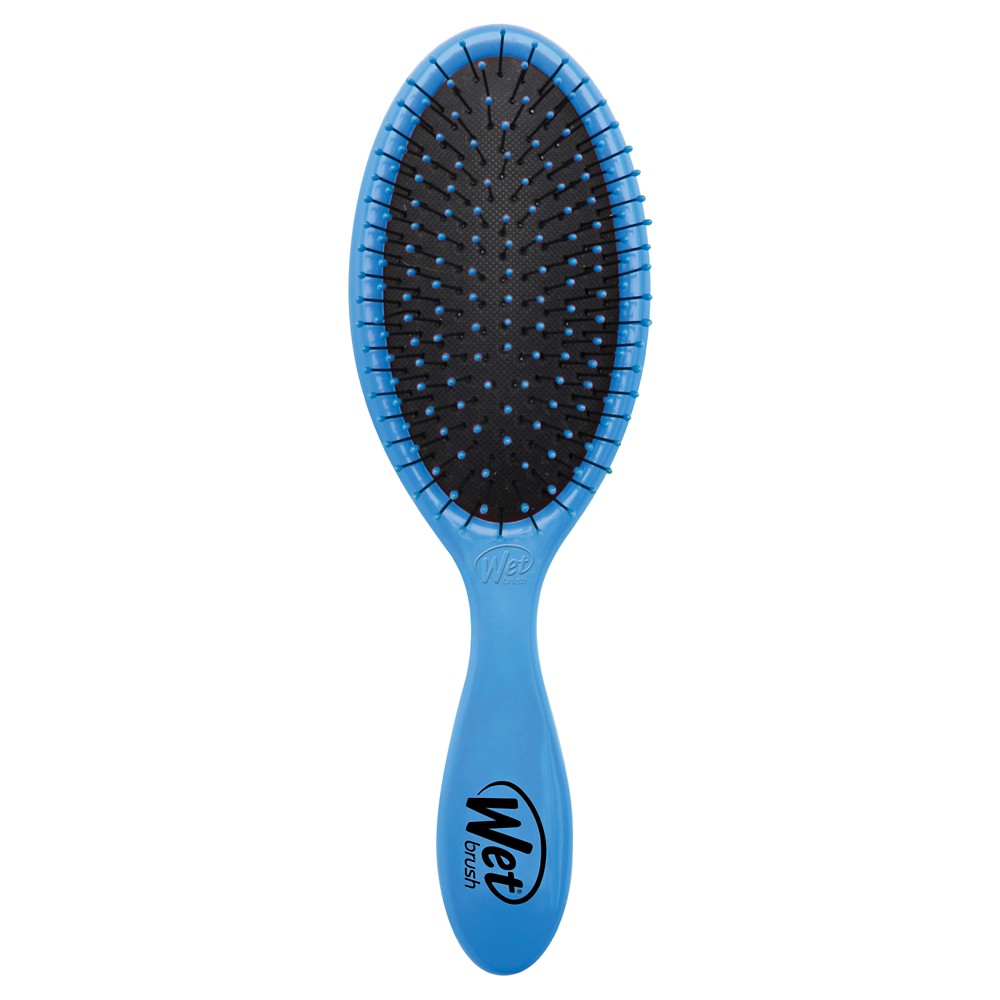 I looked it up and was impressed that this brush had so many fantastic reviews and was less than $10! I immediately added it to my cart and checked out. A few days later when it arrived I made sure to give Mercedes a bath and not not use extra conditioner so I could really put it to the test. I was skeptical that it could really handle her hair that ties itself in knots with just a few swishes against her pillow.
Blown away. That's all I can say for my reaction to how well this brush worked. Mercedes never yelled that it was hurting her and even though she had some tangles it easily worked it's way through them with just a few swipes. The one really stubborn tangle she had was even worked out with minimal effort. And I didn't need to use extra conditioner or leave in conditioner spray!
Okay, so it works for little girl hair but what about lazy mom hair that is super damaged from intense coloring and gets thrown up in a mom bun day after day? What if I wash it and barely put in any conditioner (when I normally put in quite a bit so I can brush through it), will it still work? Score another point for the Wet Brush. It tackled my hair even after I left it up to dry for a bit in a towel. Brushed right through the snarls with ease. Sold.
It comes in loads of colors and even multiple patterns if you are more particular about that (or if your daughter really wants a specific one) but when it costs less than $10 with tax it's a steal no matter what. I almost want to buy a whole bunch and start giving them out as gifts when any friend has a little girl. Of course my little guys love to get their hair brushed with it, too! It says it works on all hair types but since everyone in our house has mostly the same type I can't say how it works on on super curly hair. You'll have to let me know if you have curly hair and try it out!
You can snag this brush in store at Target or from target.com for $8.99 and if you are a REDcard holder you will get an extra 5% off plus free shipping! If you aren't a REDcard holder shipping is free over $25.
You can also find this brush on Amazon for $8.98 with free shipping if you are a Prime member. If you aren't an Amazon Prime member it will ship free for orders of $49 or you can sign up for a free 30 day trial of Amazon Prime – just remember to cancel before the 30 days are up!
Have you tried the Wet Brush? Does it live up to all the raving reviews? Do you have a different brush to rave about instead? Let me know in the comments!
---
Did you hear about the weekly devotional I'm hosting? It takes place every Thursday right here on the blog! Click here to find out what you need to know to join in.