It's a new season so it's time for a new Stitch Fix Box! Take a look at my summer Stitch Fix box, see what I kept and what I sent back, discover how to get your first box for free, and how to get the look for less!
(Note: This post may contain affiliate links. I will earn a small commission if you use my links to purchase a product but your purchase price does not change. Check out the disclosure policy to find out more.)
Summer clothes! Before the heat started I thought I was totally set on clothes because I had a few pairs of shorts, a couple pairs of capris, and lots of plain tees. Except now that I'm trying to dress a little more like a grown up and less like the college kid that just rolled out of bed I realized I don't own much in terms of "nice" clothing.
Hi, I've been a stay at home mom for almost ten years and didn't really care about my wardrobe. But now I do because I've realized that putting on cute clothes and clothes that I feel good in helps me feel more confident and motivated to get things done. Sitting around in yoga pants (like I am at this moment) makes me want to curl up in a ball on the couch rather than check things off on my to-do list, ya know?
Because I've got five kids and husband that works long hours, getting out to the store to find clothes simply doesn't work most of the time. I want to go browse clearance racks and thrift stores but I just can't get away from kids! And of course I'd much rather try things on at home instead of in a dressing room, which is why I've become a big fan of Stitch Fix.
Yes, I just got a fix about a month ago, maybe even more recently than that, but I really wanted a few more pieces for my summer wardrobe. This will probably be my last fix until fall just so I can give myself some time to save up a bit more cash.
If you've never done Stitch Fix and aren't sure how it works, keep reading! I've got a little tutorial down below for you 🙂
Other posts you may enjoy…
If you want to watch the live unboxing I did on Facebook, you can see that here, otherwise just take a gander at the pictures to see the goodies I got – I think this was my favorite fix so far!
1. Vigoss Pixie Distressed Cuffed Frayed Hem Shorts
I didn't take a picture of just the shorts but I'm wearing them in all the photos below. They were really soft and incredibly stretchy… but too tight. And for the price I didn't want to size up. Not because I have an issue with the size, whatever – I birthed five babies – but because I am actively losing weight and I want to be able to wear what I'm buying for longer than a few months.
I really want a pair of light washed shorts because they are a great summer staple, but I'm going to need to hunt some down at a thrift store or on clearance. My upper half tends to stay about the same size when I lose weight but my lower half fluctuates and I need to save some money on those pieces. RETURN.
2. Papermoon Barita Keyhole Top
LOVE THIS TOP! I like this one so much more than the red top in my last box so I'm incredibly happy with my decision to return that one. This one is also a little loose in the bust area but less than the red one was and it sits higher in the arms meaning the gap isn't happening the way it was on that shirt.
The colors in this top are what really sold it for me. The pink matches my blush pants, the red matches a pair of red shorts I found at a thrift store a few weeks ago, and I've been hunting for a pair of olive pants which this shirt would also match. Since I'm working on a capsule wardrobe I really want pieces that I can mix and match for lots of outfit combos! KEEP
3. Alice Blue Bushnell One Pocket Blouse
This shirt was my favorite when I pulled it out of the box. The color is beautiful (I'm a big fan of mustard yellow in clothing) and the flowers have accents in many different colors which would allow me to match it with multiple items already in my closet.
But once I tried it on I realized it was almost sheer. Not super sheer, but enough that the light-colored denim jeans showed through and that means I would always need a camisole underneath. It was also a little boxy so ultimately I decided against it. RETURN.
4. Colette Romey Cold Shoulder Knit Top
This top was sooo soft! It felt great on and I liked that the "cold shoulders" felt more like slits in the arms rather than full cutouts like lots of cold shoulder shirts have. I had to purposely pose with them open to show off the detail because they often stayed rather close together on my arms. 
Despite liking those features, this was a rather plain shirt and I have LOADS of solid colored tees. My whole reasoning behind building a capsule wardrobe and getting Stitch Fix boxes is to get items into my closet that are different and not the same thing I've been wearing for years. RETURN.
5. Mia Neala Gingham Sandals
These are super, duper cute. But I simply can't pay $50 for shoes. I just can't. I had trouble paying $15 for my little brown sandals from Target and there was a gift card deal included in those! I did discover you can get these shoes from Nordstrom for $49.99 so Stitch Fix was giving me a deal on these 😉 RETURN.
So what now? 
If you've never done Stitch Fix before, here's a quick run down of how it works.
1. Sign up with Stitch Fix here (if you are new that means your styling fee will be waived for your first box!) and fill out the questions. The most specific you are, the better. If you love green but hate purple – tell them! If you are not looking for dressy, tell them. If you want to dress to the nines and make everyone say, "WOW" when you get on the dance floor, tell them! If you want items that are under $50 or over $100, tell them. Word vomit if you need to 😉
2. If you have Pinterest, start an inspiration board and share it with your stylist. Pin pictures of outfits or clothing pieces you like or even looks you are interested in trying! My board is filled with a bunch of ideas, many of which I love the look of but don't actually own pieces for so I don't know how they'd look on me! But I want to try, so this is a great way to do it.
3. Schedule your Fix. You can pick a specific day – like I did for this fix – or just let them send one when they are ready – like I did in December.
4. If you signed up using my referral link your styling fee will be waived. If you didn't sign up with a referral link, or if this isn't your first time, you will be charged a $20 styling fee. This styling fee can be applied to anything in your box that you choose to keep. This means that $36 shirt from up above that I'm keeping will only cost me an additional $16, not $36 on top of the styling fee.
5. When your fix arrives, try everything on. Post pictures on Facebook, Instagram, or send them to your friends for input. Get your spouses opinion. Make sure that you choose items you love, and don't compromise just because. I didn't feel guilty about not keeping anything in December because I hadn't paid the styling fee. If I had I probably would have kept the shirt I really loved.
6. You have three days to try your items on and decide what to keep or send back. You are only charged for what you keep, and the styling fee is applied to those items. If you choose to keep all five pieces you will receive a 25% discount – not too shabby!
7. Check out on the website and give feedback for every item – be specific about what you loved or what you hated so your stylist knows for the future! The more feedback you give the better they can work with you for your next fix.
8. Send the items you don't want back in the included, prepaid envelope. Just drop it off in any USPS mailbox and you are done!
Now that I've chosen my pieces I'll be sending the rest back. I've already worn my new tank top to a MOPS picnic and plan on wearing it again soon!
As for the items I didn't choose…
Because I enjoyed several of the pieces in this box I'll be looking for places to get similar pieces, without the high price tag. Because I'm a frugal girl I'm all about hunting down a good deal – I just needed to know what to look for!
Recreate the Stitch Fix box for less!
1. Distressed Cuffed Frayed Hem Shorts
The great thing about cuffed light wash shorts is that they are everywhere! Choose your favorite 😉
Crafted by Lee at Target makes these Roll Cuff Jean Shorts. They aren't distressed but they have high ratings and are less than half the price of the pair from Stitch Fix at only $21.99. Don't forget to use your REDcard for an extra 5% off and free shipping!
Amazon is almost always the first place I go looking for Stitch Fix alternatives because they have such a huge selection of clothing at really reasonable prices. These shorts are less than $20 and are offered in 13 different colors!
These are another quality option from Amazon. These shorts are Riders by Lee and come in both light and dark wash. They are also part of Prime Wardrobe meaning you can select three or more items and get them sent to your home, for free, to try on for 7 days. You only need to pay for what you keep! It's like Stitch Fix, but you pick your own items and there is no styling fee!
2. Keyhole Top
Because this was my favorite piece I was really interested to see if I could find the same or similar item elsewhere. Like the red top from last month, I had trouble finding a top in a similar style.
This one from Amazon is really cute and definitely fits the budget. If you want something closer to the leaves or palm fronds like on the shirt in my box then you might want this shirt. I own this one and wear it all the time!
If floral isn't your jam but you like the style of the keyhole tank then check out these tops from Amazon! Priced between $5 and $13 in several colors, they are sure to fit your style and budget!
I found a maternity option in the same style as the shirt! This one has a crochet embellishment down the center to add a little extra fun. I didn't even realize this was maternity at first and was really wondering how it would look if I sized down!
3. Yellow Blouse
Who knew that finding a yellow floral print blouse would be so challenging! I can't even begin to count the different ways I phrased my searches. I tried to find a few different options that are focused on different aspects of the original shirt, depending on what part you liked.
I liked the simplicity of this yellow blouse, small flowers, very few extra colors. It is not American sizing however so make sure pay attention to the size chart!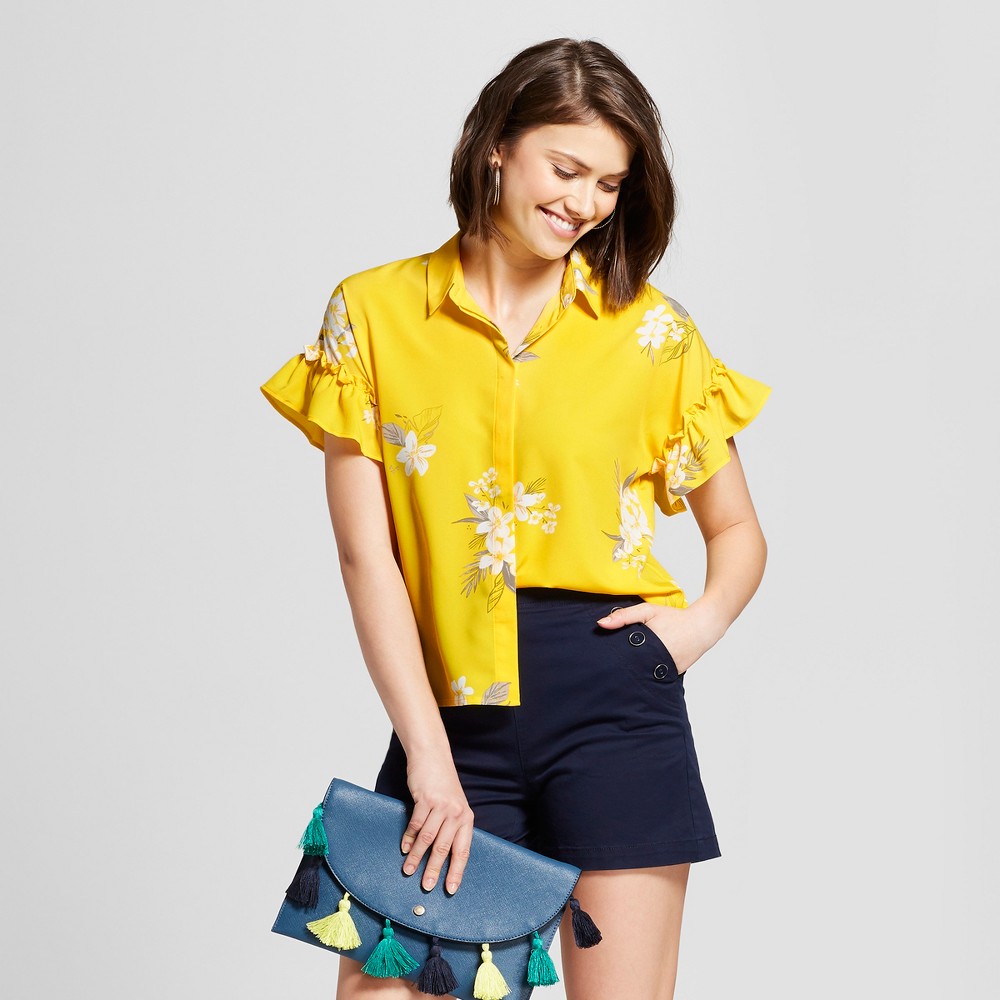 This top from Target is a button up and has a little something extra with the ruffle sleeves but is still very simplistic in the colors.
Like the yellow or the single pocket but not a fan of the floral? I'm really digging this 3/4 sleeve sheer blouse I found on Amazon – for about half of the blouse in my box!
4. Cold Shoulder Knit Top
This top was so soft and I really appreciated that the shoulders were more like slits rather than holes so I tried to find tops with that same look.
Check out this Dolmon top from Amazon that features the slit like cold shoulder style. It's a loose tunic style that gathers around the midsection.
Check it out – another maternity option! When did maternity clothes get so darn cute? I've only been out of the pregnancy game for four years, c'mon!
5. Mia Neala Gingham Sandals
Turns out the actual sandals in my box are available at Nordstrom but for the same price. I guess if you really love them you could try to wait for clearance and hope you can get them? Otherwise here are some other gingham options.
These still have around the ankle strap but all in gingham, rather than only the toe strap in gingham. And the price isn't significantly lower, but that is probably because they are Kenneth Cole Reaction brand.
These slides on the other hand are about half the price as the ones included in my fix this month and I think just as cute.
I also picked out these slides since they are in the spirit of the original shoes with the tie style top – but these are a great price!
What do you think? Did I find some good options for less?
How about my box choices? What item(s) would you have kept?

Don't forget! You can get your first shipment from Stitch Fix for FREE when you sign up with my referral link!
Pin this for later!